Cancer in Pregnancy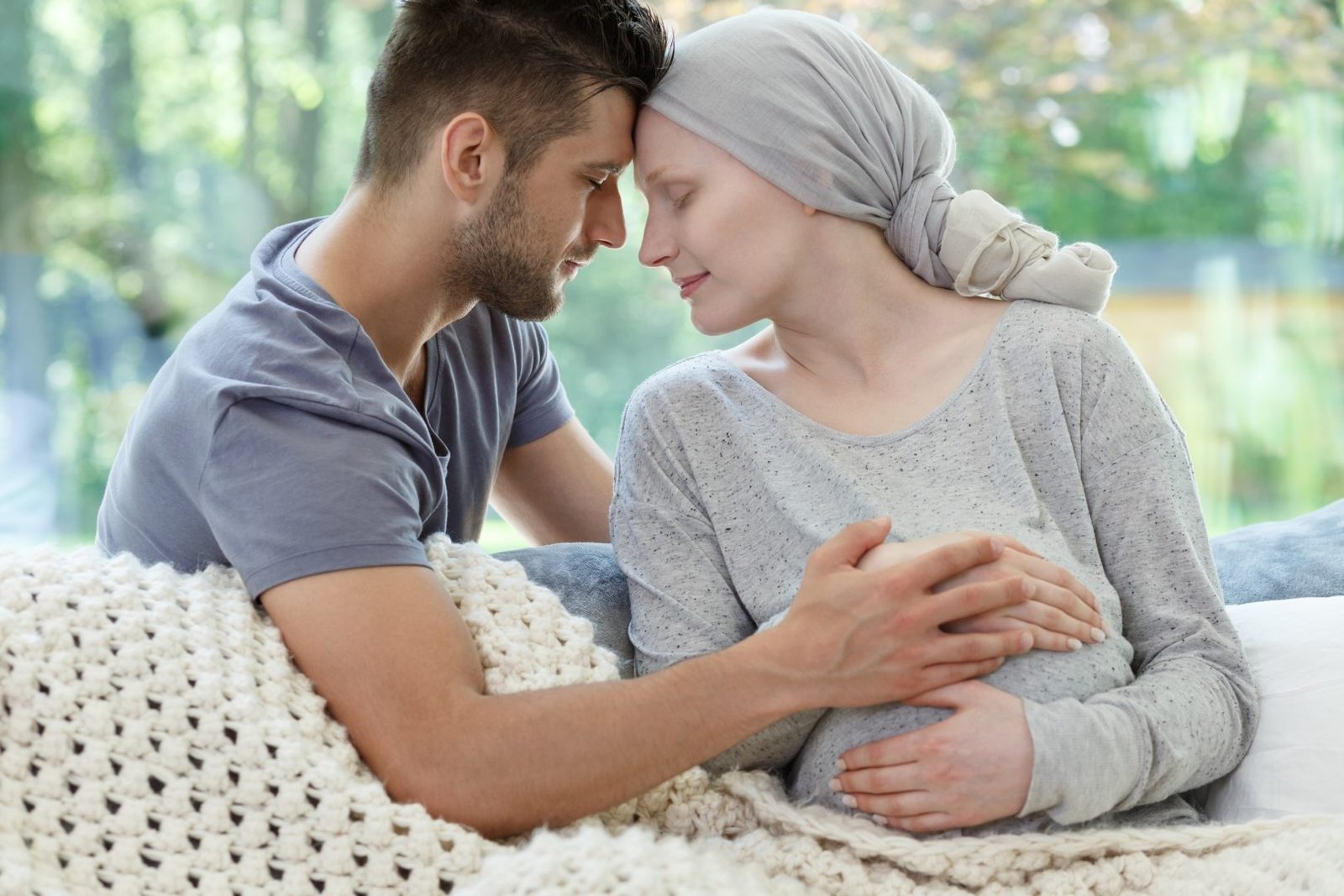 Cancer during pregnancy is not common. It only affects about 1 in 1,000 women, and being pregnant does not make the disease spread faster. However, when a pregnant woman has cancer, there are a few things she should know, including the potential effects on her unborn child.
Types
The most common type of cancer during pregnancy is breast cancer, affecting about 1 in 3,000 pregnant women. This type of cancer can potentially be more dangerous to have during pregnancy because breasts naturally change during pregnancy. It can make breast cancer more difficult to detect because any changes appear to be normal. Women who have breast cancer during pregnancy may be diagnosed later than in women who are not pregnant.
Other types of cancer that are common during pregnancy are cervical cancer, leukemia, ovarian cancer, and melanoma. A pregnant woman can also get bone cancer, lung cancer, or brain cancer, but these types are not very common.
Diagnosis
Pregnancy can make it harder to diagnose cancer because some cancer and pregnancy symptoms overlap. These symptoms include breast changes, rectal bleeding, headaches, and bloating. On the other hand, some tests during pregnancy, such as Pap tests or ultrasounds, can show cervical or ovarian cancer.
While some tests may be harmful to the baby, there are a few tests a doctor may use to diagnose cancer. Research has shown that X-rays are safe for babies because the amount of radiation in them is very low. Depending on what part of the body the X-rays are focusing on, a pregnant woman may be able to wear a lead drape over her stomach to protect the baby further.
Another diagnostic test that is often used and is safe during pregnancy is a CT scan or computed tomography scan. While CT scans are like X-rays, they are more precise in showing the location of cancer and where it has spread.
In the head and chest, CT scans are usually safe for the baby because he or she is not directly exposed to radiation. A pregnant woman can wear a lead drape over her stomach to protect the baby more. However, CT scans in the head and stomach should only be done if they have to be because they can expose the baby to radiation.
Other tests such as ultrasounds, biopsies, and magnetic resonance imaging (MRIs) are also usually safe for an unborn baby.
Treatment
When a pregnant woman is diagnosed with cancer, a team of both cancer specialists and high-risk pregnancy obstetricians work together to determine the best course of action. The best treatment for a pregnant woman with cancer depends on a variety of factors. These include how far along the pregnancy is, the type, stage, and location of cancer, and how risky the treatment is to the baby. Regardless of what treatment, sometimes it might not be right for a pregnant woman now, but it will be later on in the pregnancy once the baby has developed further. For example, in the first trimester of pregnancy, a baby may be more likely to be harmed by cancer treatments than later on in the second or third trimesters.
If it is even later in the pregnancy, the doctor may decide to discontinue treating cancer and instead wait until after the baby has been born.
Surgery
Surgery for cancer treatment is generally safe for the baby. In this procedure, the doctor removes the cancerous tissue as well as some surrounding tissue to ensure that the disease does not spread. Because this does not put the growing baby at risk, it is considered one of the safest cancer treatments for pregnant women.
Chemotherapy
In chemotherapy, doctors use certain drugs to destroy cancer cells. Chemotherapy can keep cancer from spreading by preventing cancer cells from dividing and creating new cells. While chemotherapy can damage healthy cells, it usually only kills the cancer cells because they grow much faster than healthy cells.
Doctors may choose to use chemotherapy before surgery to shrink a tumor, after surgery to kill any remaining cancer cells or to treat cancer that has come back.
A pregnant woman should not have chemotherapy during her first three months of pregnancy because this is when a baby's organs are developing. Chemotherapy can cause congenital disabilities or even miscarriage.
Once a pregnant woman reaches the second and third trimesters, doctors are able to choose from a few chemotherapy drugs that cannot pass through the placenta to the baby. Some other chemotherapy drugs only pass through to the baby in small amounts, and studies have shown that they do not harm the developing baby.
Radiation
In radiation therapy, high-energy X-rays are used to destroy cancer cells. They work by damaging the DNA of cancer cells, causing them to stop dividing and die.
While diagnostic X-rays are not harmful to a baby, the amount of radiation when it is used as a cancer treatment can be detrimental to a baby no matter what trimester the mother is in. The dose of radiation and the area of the body being treated can show how risky it is for the developing baby.
A baby who is exposed to radiation in the womb can have severe health problems such as stunted growth, congenital disabilities, deformities, or even cancer later in life.
Effects on Mother
Pregnancy is already difficult and having cancer only adds to that difficulty. One result of chemotherapy is that its side effects may cause low blood cell counts in a woman's body. It can lead to the risk of infection during delivery.
Generally, a woman with cancer during pregnancy is able to keep her baby. However, she may need to deliver the baby a little earlier than she had planned.
Effects on Baby
Usually, cancer cannot spread from a pregnant woman to her child. The placenta generally prevents this. However, while there is a lack of research on the effect of cancer on unborn children, there is evidence that certain types of cancer, especially leukemia, can spread from a mother to her baby.
One Japanese mother was diagnosed with leukemia a few weeks after giving birth, eventually dying from the disease. Less than a year later, her child also developed leukemia. When doctors tested the child's cancerous cells, they found the cells had most likely passed through the placenta.
Effects on Breastfeeding
Cancer itself cannot spread to a baby through breastfeeding. However, if a woman is going through chemotherapy treatments after she delivers her baby, she should not breastfeed. The drugs used in chemotherapy can pass through breast milk to her baby
Outlook
It is unlikely for a pregnant woman to develop cancer while she is carrying her child. However, if she does, her outlook is usually about the same as for a woman who is not pregnant, especially if the cancer was caught early. The disease will generally not affect her pregnancy. A pregnant woman with cancer should discuss the best treatment options for herself and her baby with her doctor.